Hola Lexicans! It is now officially less than 2 weeks until Christmas and I am so so excited. Now as it's edging nearer and nearer to my favourite day of the year, I just realised I never posted my Christmas Wishlist (even though I wrote it out..!) and I thought since I love reading these posts (and watching these videos on YouTube), I would share with you
My Christmas Wishlist 2017
(even though it's quite late to do this post now!) This post should also be quite helpful if you're a parent, grandparent, aunt etc etc trying to buy for a teenage girl, as there should be some ideas you can nick on
Gifts You Can Give Your Teenage Girl
if you're not particularly prepared and need some last-minute gifts *cough you know who you are cough*! I'd also like to add before I begin this post, I in no way expect, think or even hope to get all or even just one of these presents. A lot of them are just there as suggestions for family members and I understand that I will not be getting all of these. I also want to clarify that I do understand Christmas is
not not not
about presents and merchandise, and that really these things can only make you happy for a certain period of time, and that Christmas is really about celebrating Jesus' life and coming together as a family, or with friends. But yah, with this disclaimer out there, let's get started...
Ted Baker Rhondaa or Chelsey Leather Large Shopper Bag
I know these are really expensive, and so I in no way shape or form expect to get one, I just really love them so I put them on my wishlist anyway - they are so so gorgeous!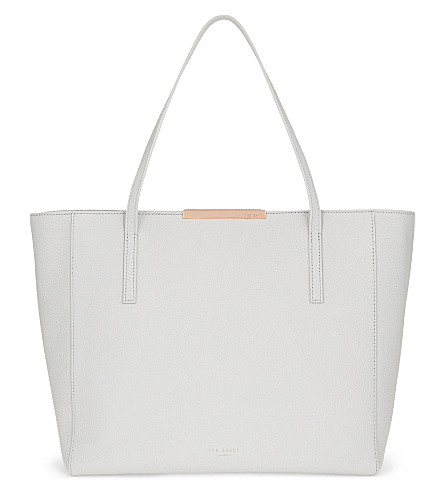 I can't link to either of the bags as I can't find them in stock or online anywhere, but this is the Rhondaa bag. credits
Pandora Captured Hearts Stud Earrings
in Rose Gold
I do already know I'm getting these, as I went with my Nanny to buy them and I am so happy and excited for them, as they're really beautiful. I already own a Pandora rose gold ring, so I'm looking forward to having little rose gold earrings to wear with them.
Urban Decay Naked Heat
I have the Naked 1, 2, Flushed + Basics 2 and I really love the Naked range (obviously) so when I saw they were bringing out another Naked palette with some gorgeous shades, I was very excited.
Brandy Melville
voucher
Not lots of explaining to be done on this one - I love love love Brandy Melville as a brand, but it is quite expensive, so I'm asking for a voucher (although I'm pretty sure I won't be getting this!)
Books
Not going to explain this one much because uh.. books.., but my mum actually has a good taste in books (to be fair she used to be in publishing, so I would expect her to), so I've trusted her with the task of picking out 'any good YA or teen books' ahahah.
Benefit
Porefessional
OR
That Gal
Primer
I've tried minis of both of these primers before and I loved them both, however since they were fairly small compared to the real thing, they ran out quite quickly so I'd love to get a full-size, since currently I'm squeezing out the remainders to prime my face when I wear make-up and it is a real workout for my hands..!
Hand-held light up mirror
Currently I have this old mirror on my desk that falls down and scares the living daylights out of me on too-often basis so I would really love a new mirror. And with lights because like.. wow that's snazzy ahahah.
Calvin Klein bralette
This is quite a basic item, but I know a lot of people who swear by Calvin Klein for underwear, particularly this bralette for sports and even though I don't do much sports
(but I still do some),
they're quite cute so yah.
Fujifilm Instax Mini 9
polaroid camera
I already have this actually (well I have the Mini 8, but this is newer so I thought I'd share the 9 instead), but this would make a great gift if you're looking to buy one for a teen girl! They're not very good quality, but the whole thing is so cute!
So these are the things that are on my Christmas Wishlist this year (along with a couple other bits and bobs). Would you like to see a What I Got For Christmas 2017? What other Christmassy posts would you like to see? What's on YOUR wishlist this year (if you celebrate Christmas, of course)?
Xxx